Mountain Dew: 100 Days of Baja
As most readers may know, Mountain Dew is a popular soda sold and carried in many stores and soda fountains around the world. The citrus flavoured carbonated drink was first introduced in 1940 by Tennessee beverage bottlers Barney and Ally Hartman. Moving into 1964, Pepsico. acquired the brand, production and distribution rights. This resulted in the soda entering the mainstream market across the United States and Canada. Mountain Dew started off with a single citrus flavour, then introduced Code Red and Code Blue. Moving into 2020 Mountain Dew launched a campaign for a variety of tropical flavours called "100 Days of Baja".
---
Within the tropical lineup by Mountain Dew there are 3 flavours, Baja Flash, Baja Blast, and Baja Punch. Baja Flash is described as a Pineapple Coconut / Pina Colada flavour, similar to Mountain Dews "Maui Burst". Baja Punch is a Tropical Punch flavour, similar to Typhoon and Solar Flare. The two flavours were originally leaked on August 4th 2020, alongside a video promotion with all the Baja flavours, calling it "100 Days of Baja". The sodas were officially released on June 12th, 2021 until September 2021.
Baja Blast is a Mexican-inspired Tropical Lime flavour of Mountain Dew. Its colours has an ocean-like teal look. The tropical theming of the soda is shared with its sister sodas, Baja Flash and Baja Punch. However, this iconic Mountain Dew flavour was once paired with former secondary Taco Bell exclusive, Sangrita Blast. Baja Blast was first released during August, 2004, exclusively at Taco Bell locations in the United States. This marked the first time a beverage company and a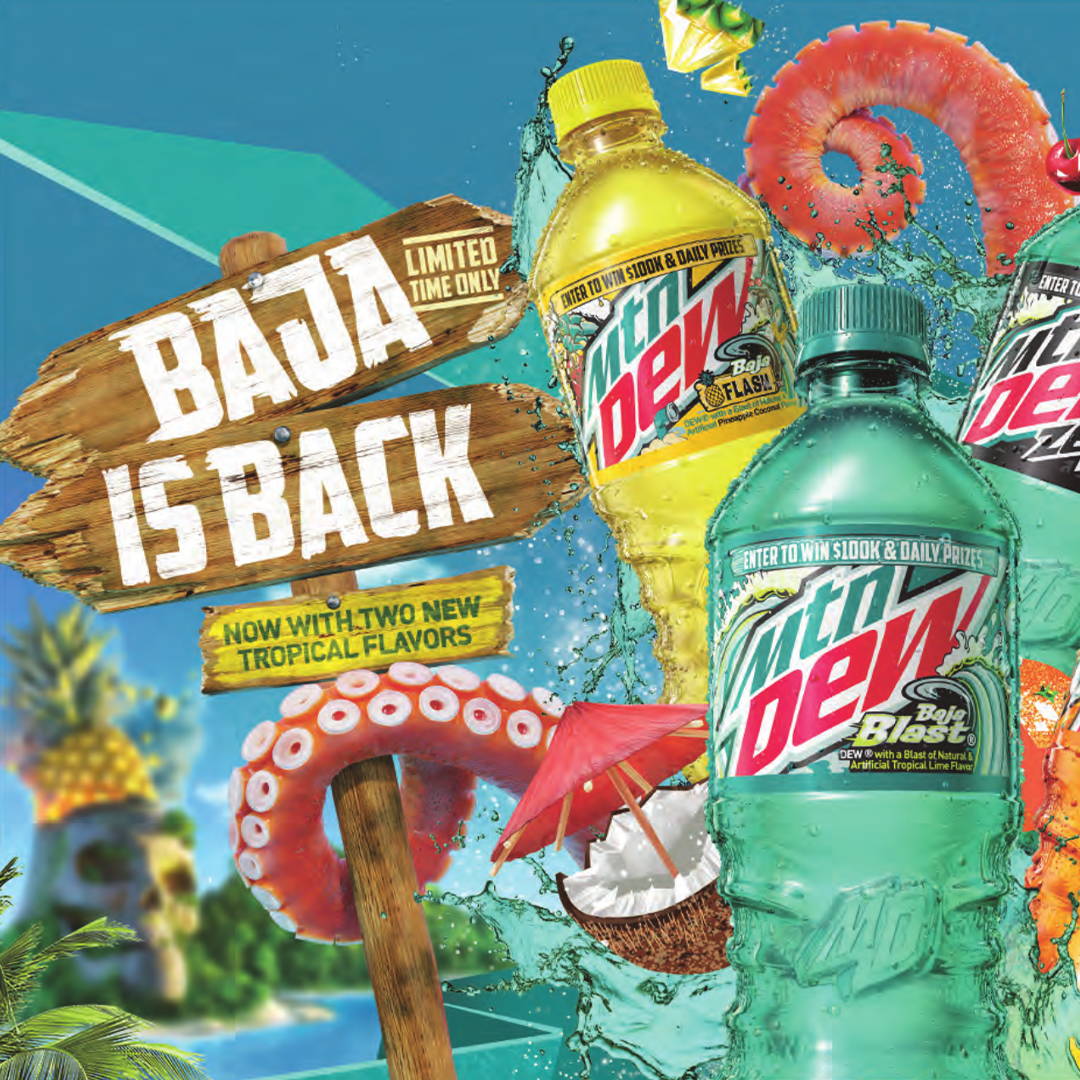 fast-food chain have created a proprietary beverage. Baja Blast was a hit amongst Taco Bell consumers and Mountain Dew fanatics alike. Due to the popularity of the exclusive flavour, it was released in bottles and cans during 2014 in the United States. This popular tropical soda has now been a part of recurring Mountain Dew's summer lineup and has secured a spot in Mountain Dew's retail lineup.
---
Although Mountain Dew has released many flavours and variations over the years, the Baja lineup is a MUST try! With 3 flavours to choose from, Baja Flash, Baja Blast, and Baja Punch, your tastebuds will never get bored! Although you have a variety of flavours to choose from, Baja Flash has to be on the top of the list. The Pina Colada inspired soda is unique in flavour and is perfect ice cold, on a hot summer's day at the beach. If your taste buds are dying to be quenched by this tropical goodness, just like mine, head on over to DoorTreats.ca to have a cold can of Baja Flash delivered right to your doorstep!